Chapter Seven: Late 2010
Fame v. Anonymity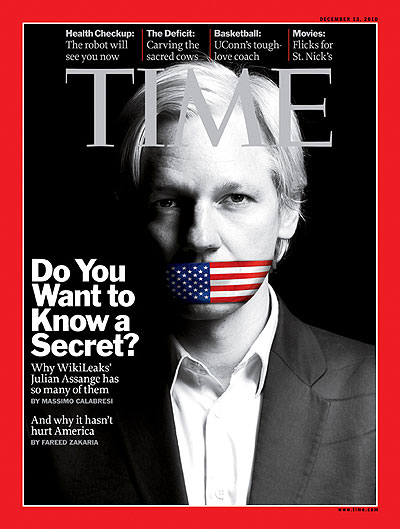 TIME's cover for December 2010
By the end of 2010 Julian Assange had become a major global celebrity, topping the popular vote for TIME's Person of the Year award (the editors gave it to Facebook founder Mark Zuckerberg instead). But some argued that the unresolved sex allegations hanging over him were causing undue damage to WikiLeaks' reputation. In a late 2010 online Q & A session, Assange was asked: "Don't you think it would be better if the organization was anonymous?"
"I originally tried hard for the organisation to have no face, because I wanted egos to play no part in our activities. This followed the tradition of the French anonymous pure mathematians, who wrote under the collective allonym, "The Bourbaki". However this quickly led to tremendous distracting curiosity about who and random individuals claiming to represent us. In the end, someone must be responsible to the public and only a leadership that is willing to be publicly courageous can genuinely suggest that sources take risks for the greater good. In that process, I have become the lightening rod. I get undue attacks on every aspect of my life, but then I also get undue credit as some kind of balancing force."
Following the release of the Afghan War Logs on 26 July 2010, Assange told a packed audience at the Frontline Club:
"We started off like the Economist. We wanted to make the news, not be the news. But that produced extraordinary curiosity as to who we were…​ This attempt not to be the news, made us the news."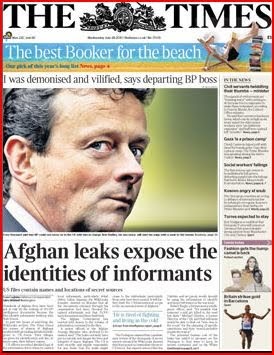 Two days later the Rupert Murdoch-owned UK Times newspaper demonstrated Assange's point, with an article that falsely implied he was personally responsible for the recent death of an Afghan man. A front page headline screamed: "Afghan leaks expose the identity of informants". The paper claimed to have discovered the names of dozens of Afghan informants with just "two hours of searching the Wikileaks archive". Julian Assange was incensed by this "bullshit", but the page 13 story was particularly deceptive.
There's a photo of Assange below a headline that reads "Taliban hitlist' row: WikiLeaks founder says he did right thing". And next to the photo, another headline reading "Named man is already dead." The imputation is quite clearly that Assange's actions have resulted in the man's death, although in the story itself it makes it clear that he actually died two years ago.
In fact, Times readers had to absorb six paragraphs of information before discovering that the man had already been dead for two years. This "yellow journalism" was a sign of things to come. Journalists continued putting Assange on the defensive with unsubstantiated claims about allegeged or merely "possible" casualties. They haughtily pressured him to defend the "morality" of WikiLeaks' actions.
"You have to start with the truth," argued Assange. "The truth is the only way that we can get anywhere. Because any decision-making that is based upon lies or ignorance can't lead to a good conclusion."
He said WikiLeaks was "creating a space behind us that permits a form of journalism which lives up to the name that journalism has always tried to establish for itself". But how many other journalists and media organisations wanted to inhabit that space?
Guardian editor David Leigh, who later became one of Assange's harshest critics, said it was "actually fairly irrelevant to talk about whether what Julian is doing is a bad thing or a good thing, because if he wasn't doing it, somebody else would".
"He's a function of technological change. It's because the technology exists to create these enormous databases, and because it exists it can be leaked. And if it can be leaked, it will be leaked."
This was very much the philosopy of a rapidly growing online collective of hackers, united under the hashtag #Anonymous, who were proliferating on social media and already strong supporters of WikiLeaks:
"Information wants to be free".
On 6 August the US Pentagon demanded WikiLeaks delete all published classified documents and return any other classified files in their possession.
If doing the right thing is not good enough for them then we will figure out what alternatives we have to compel them to do the right thing.
On 21 August 2010 the Wall Street Journal reported that Pentagon lawyers believed WikiLeaks had "acted illegally" in publishing the Afghan War Logs, and federal prosecutors were "exploring possible criminal charges". An anonymous US law-enforcement official said the joint investigation by the Army and the FBI was "still in its early stages" and Julian Assange had "not been identified by the FBI as a target of the probe". However:
Several officials said the Defense and Justice departments were now exploring legal options for prosecuting Mr. Assange and others involved on grounds they encouraged the theft of government property.
One big issue - dubbed "the New York Times problem" - was already evident: charging Assange would equate to criminalising journalism.
Bringing a case against WikiLeaks would be controversial and complicated, and would expose the Obama administration to criticism for pursuing not just government leakers, but organizations that disseminate their information.
The investigation, formally known as the Information Review Task Force, was lead by Brigadier General Robert Carr of the Defence Intelligence Agency (the Pentagon's equivalent of the CIA) under the direction of the Secretary of Defense Robert Gates.
In a nondescript suite of government offices not far from the Pentagon, nearly 120 intelligence analysts, FBI agents, and others are at work — 24 hours a day, seven days a week — on the frontlines of the government's secret war against WikiLeaks.
The "WikiLeaks War Room" was tasked with investigating "exactly what classified information might have been leaked to WikiLeaks", and then predicting how disclosure of such information could affect the US military or US foreign policy. But also, more ominously:
The team has another distinct responsibility: to gather evidence about the workings of WikiLeaks that might someday be used by the Justice Department to prosecute Assange and others on espionage charges.
As every psychologist knows, people react very differently - and sometimes very strangely - when placed under immense pressure. As threats mounted year after year, Julian Assange gradually found himself at war with the most powerful forces on earth. And it was very much a war-like situation, with Assange's friends, family, colleagues, lawyers and supporters were all targeted. By November 2010, US Secretary of State Hillary Clinton was reportedly complaining: "Can't we just drone this guy?"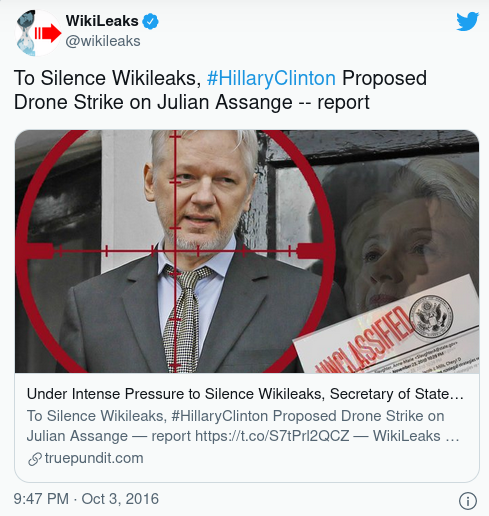 According to State Department sources at the early morning meeting of "top brass":
The statement drew laughter from the room which quickly died off when the Secretary kept talking in a terse manner, sources said. Clinton said Assange, after all, was a relatively soft target, "walking around" freely and thumbing his nose without any fear of reprisals from the United States.
Clinton later refused to deny her reported comments: "It would have been a joke, if it had been said, but I don't recall that."
Faced with ever-escalating pressure and associated dangers to his own life, Assange continually hardened his resolve. As Vaughan Smith, the director of the Frontline Club, put it: "Combat, intellectual combat, seems to be his stimulant of choice. It just fuels him."
There may be an element of Aspergers Syndrome in such stubbornly single-minded persistence. Or Julian Assange may simply be a courageous hero in the mould of Daniel Ellsberg and other great truth-tellers. Perhaps a bit of both. Others at WikiLeaks, however, did not respond to the constantly mounting pressure with such steely determination.
Staff Defections
Iraq War Logs