Chapter Seventeen: 2014
After all the drama and excitement of the Manning and Snowden releases, 2014 was a rather more subdued year for the WikiLeaks team - but still a very busy and challenging one!
Courage Foundation
Sarah Harrison, now exiled in Germany, became acting director of the Courage Foundation, a UK trust to support whistleblowers. Originally co-founded by Julian Assange in 2013 as the "Journalistic Source Protection Defence Fund", Courage quickly raised nearly $125,000 for their first beneficiary, Edward Snowden.
At the June 2014 launch in Berlin, Gavin MacFadyen, a Courage Trustee and Director of the Centre for Investigative Journalism, explained their mission:
The Trustees started Courage because it is imperative for free speech and an open independent press to support whistleblowers, particularly those who risk their lives and freedom to bring critical information to the public. At the time Courage started there were no international organisations providing the support Edward Snowden needed to remain free and none organising support for whistleblowers to come. Knowing the central role whistleblowers have played in the major ground-breaking disclosures of our time, it is clear that without freedom and protection for truthtellers, there is no freedom or protection for journalists. And none for the public. Courage has never been more needed and essential to a free press.
The shock of the Snowden revelations continued to rock world affairs. In February 2014 documents from Edward Snowden exposed NSA and GCHQ surveillance of WikiLeaks, its staff, and its "human support network". Julian Assange had been placed on a "manhunting" target list and attempts had been made to classify WikiLeaks as a "malicious foreign actor". Assange released a statement in response, condemning the NSA's "reckless and unlawful behavior" and calling on President Obama to appoint a Special Prosecutor to investigate the NSA's "criminal activity" against the media.
News that the NSA planned these operations at the level of its Office of the General Counsel is especially troubling. No less concerning are revelations that the US government deployed "elements of state power" to pressure European nations into abusing their own legal systems; and that the British spy agency GCHQ is engaged in extensive hostile monitoring of a popular publisher's website and its readers.
The NSA and its UK accomplices show no respect for the rule of law.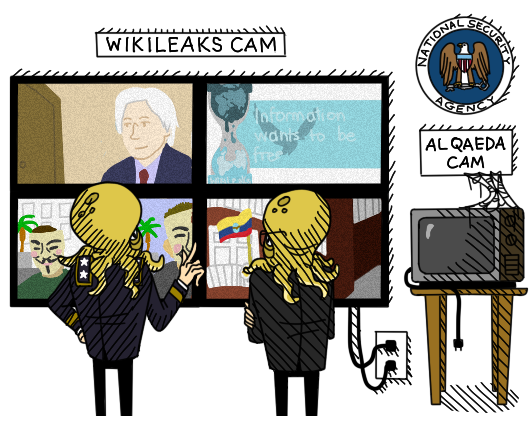 Another Snowden document revealed that the Bahamas and one other un-named foreign nation were the subject of the most extreme NSA surveillance, with nearly all domestic and international phone calls recorded and stored. By this time, Glenn Greewald was working at The Intercept, which he co-founded in February 2014 with funding from eBay billionaire Pierre Omidyar. At the request of the US government, both the Washington Post and The Intercept had redacted the name of the second nation, which was referred to as "country X". In May 2014, after heated online arguments about censorship with Greenwald and others at The Intercept, WikiLeaks revealed the name of the country:
We do not believe it is the place of media to "aid and abet" a state in escaping detection and prosecution for a serious crime against a population. Consequently WikiLeaks cannot be complicit in the censorship of victim state X. The country in question is Afghanistan.
The Intercept had initially declined to name the country due to "credible concerns that doing so could lead to increased violence." But WikiLeaks argued that Afghans had a right to know what was happening, given that any loose talk in a phone conversation could trigger an immediate drone strike. Greenwald said the NSA had "aggressively urged" The Intercept not to reveal four other countries which The Washington Post had redacted, but he had not. He later thanked WikiLeaks for being "out there pushing everyone - including us - to the direction of more transparency".
Releases And More Releases
Meanwhile WikiLeaks documents from Cablegate and other releases were also having an enduring impact around the world. And new releases kept coming. Including prisoner releases…​
On 29 January 2014 Roshan Jamal Khan, an Indian national jailed by Spain for six years, was granted his freedom. Khan and ten Pakistani men were convicted in 2009 of "belonging to a terrorist group" that planned to bomb the Barcelona Metro in an operation called 'Operation Cantata'. But WikiLeaks cables supported the defence's claim that a key protected witness 'F1' was actually an undercover agent working for a third country - the US Ambassador himself had said so.
In February 2014, when Russia invaded the Crimean Peninsula and subsequently annexed it from Ukraine, WikiLeaks cables provided critical context and US perspective.
In March 2014 a Human Rights Watch report on surveillance in Ethiopia cited multiple WikiLeaks cables and Spy Files as evidence. WikiLeaks released a fourth tranche of Spy Files on 15 September 2014, prompting activists in Bahrain to file a criminal complaint against Gamma International, the UK manufacturer of FinFisher spyware.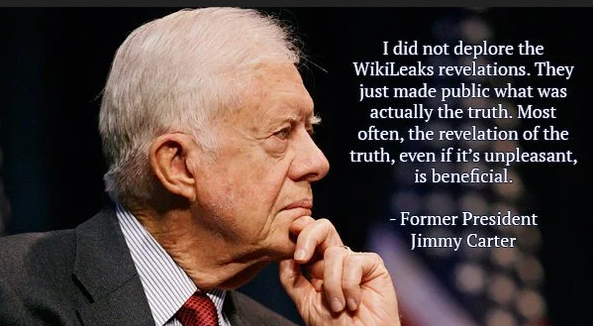 On 24 April 2014 WikiLeaks released the Carter Cables - 367,174 US diplomatic cables and associated records from the first year of President Jimmy Carter's administration - which expanded the WikiLeaks Public Library of US Diplomacy (PlusD) to 2,325,961 documents. The new cables provided fresh information on still-influential figures like President Carter (a WikiLeaks supporter) and Swedish foreign minister Carl Bildt, plus key events like the US invention of the neutron bomb and Anwar El Sadat's visit to Israel.
the Iraq War Logs helped activists compile a 250-page dossier and refer alleged UK war crimes to the International Criminal Court.

WikiLeaks released draft guidelines for new EU policies on free speech, which were supposed to have been revealed to the public months earlier.

the United States fell to 14 places to position 46 on Reporters Without Borders' World Press Freedom Index, largely due to their persecution of WikiLeaks, Chelsea Manning, Edward Snowden, and other whistleblowers and journalists.
In May 2014, a US Department of Justice (DoJ) document confirmed the FBI and DoJ "multi-subject investigation" into WikiLeaks was ongoing. The DoJ requested that records in the investigation remain secret as they may "cause articulable harm" to the ongoing investigation and "pending future prosecution". Journalist Kevin Gosztola noted that this could well signal a future prosecution of Julian Assange:
Government attorneys in this lawsuit have now confirmed twice that the criminal investigation into the unauthorized disclosure of information that was published on WikiLeaks' website is not over. The government has feared revealing any information would jeopardize "civilian criminal/national security investigation(s)" that are apparently "multi-subject" and "active and ongoing."
Later in May 2014, a high profile US soldier accused of desertion in Afghanistan, Bowe Bergdahl, was released as part of a prisoner swap for five Taliban leaders in Guantanamo Bay. A document from the Afghan War Logs detailed the 2009 capture of Bergdahl, while the Guantanamo Files profiled the five Taliban leaders, plus four other Guantanamo Bay detainees who were released that year.
In June 2014, Chelsea Manning - now fighting for the right to gender dysphoria treatment while imprisoned, after legally changing her name from Bradley Manning - published a New York Times Op-Ed titled "The Fog Machine of War". She complained that "the concerns that motivated me have not been resolved" because "the current limits on press freedom and excessive government secrecy make it impossible for Americans to grasp fully what is happening in the wars we finance".
"We intelligence analysts, and the officers to whom we reported, had access to a comprehensive overview of the war that few others had. How could top-level decision makers say that the American public, or even Congress, supported the conflict when they didn't have half the story? …​ In all of Iraq, which contained 31 million people and 117,000 United States troops, no more than a dozen American journalists were covering military operations."
In July 2014, WikiLeaks released an unprecedented Australian super-injunction gag order concerning a multi-million dollar corruption case which explicitly named current and past heads of state from Indonesia, Malaysia and Vietnam, along with their relatives and other senior officials. Australia's Reserve Bank was heavily involved in a bribery scandal, along with two private companies they had contracted to print money. As usual, "national security" was being cited to "prevent damage to Australia's international relations".
Julian Assange said the concept of "national security" should not be allowed to serve as "a blanket phrase to cover up serious corruption allegations involving government officials".
"With this order, the worst in living memory, the Australian government is not just gagging the Australian press, it is blindfolding the Australian public. This is not simply a question of the Australian government failing to give this international corruption case the public scrutiny it is due. Foreign Minister Julie Bishop must explain why she is threatening every Australian with imprisonment in an attempt to cover up an embarrassing corruption scandal involving the Australian government."
Indonesia's President also condemned the gag order and called for a transparent investigation. Australia's Reserve Bank subsidiaries Securency and Note Printing Australia were later fined $21 million over bribe offers.
Swedish Prosecutor Under Pressure
On June 15 2014, marking the second year of Julian Assange's stay in the Ecuadorian embassy, fifty-nine human rights and legal organizations urged the United Nations to remedy Sweden's violation of his fundamental human rights. The groups submitted two reports — one in English and one in Spanish — highlighting repeated procedural rights violations. A third report, signed by 33 union, human rights, media and civil society organizations, petitioned the Human Rights Commission in Geneva to intervene to free Assange.
"The methods employed by the prosecutor in Mr. Assange's case are a clear violation of his fundamental human rights, yet they remain beyond the reach of judicial review."
Earlier in 2014 a retired Swedish prosecutor had published an op-ed for Sweden's daily Svenska Dagbladet newspaper asking for the Assange case to be closed. The Swedish Court of Appeals criticized the prosecution for its failure to find alternatives to progress the investigation, adding to criticism of the prosecution from European MP Eva Joly, Swedish MP Staffan Danielsson, Human Rights Watch executive director Kenneth Roth, and Reporters Without Borders.
Despite all this and more, on 16 July 2014, a Stockholm judge upheld the arrest warrant against Julian Assange, who appealed the decision and lost again.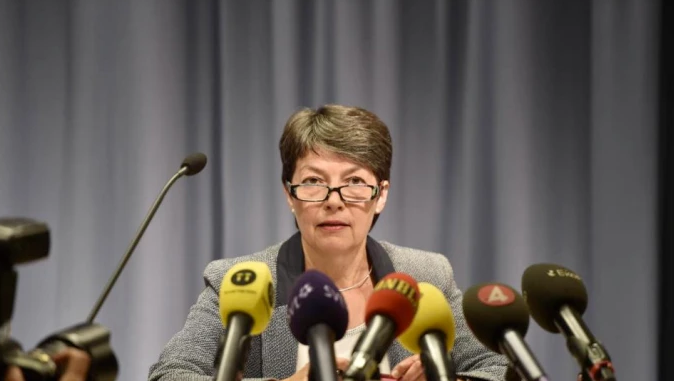 Swedish prosecutor Marianne Ny
Nevertheless, impatience with the Swedish prosecutor Marianne Ny continued to grow. In November 2014 John Pilger noted that the Swedish press, "once implacably hostile to Assange", was now publishing headlines such as: "Go to London, for God's sake."
"Why won't she? More to the point, why won't she allow the Swedish court access to hundreds of SMS messages that the police extracted from the phone of one of the two women involved in the misconduct allegations? Why won't she hand them over to Assange's Swedish lawyers? She says she is not legally required to do so until a formal charge is laid and she has questioned him. Then, why doesn't she question him?"
Of course nobody then knew that the UK Crown Prosecuters had secretly told Marianne Ny not to come to London, and not to "get cold feet" and close the case. Ny again told the CPS in October 2013 that she was under pressure to "lift the detention order …​ and to withdraw the European arrest warrant." They advised her to "wait and see". Weeks later, in November 2013, Keir Starmer stepped down after five years as Director of Public Prosecutions and head of the Crown Prosecution Service. He was later knighted for his services and went on to depose Jeremy Corbyn (an Assange supporter) as leader of the UK Labour Party.
By the end of 2014, there was a significant change in tone from the British government, whose 24/7 surveillance of Julian Assange had now reached £8 million. Britain's Deputy Foreign Minister, Hugo Swire, told Parliament on 28 October that he would "actively welcome" the Swedish prosecutor in London and "we would do absolutely everything to facilitate that". Swedish law's five year statute of limitations on Anna Ardin's sex allegations was due to expire in 2015 (Sofia Wilen's allegations had a ten year expiry date). The lack of progress on these alleged "rape" cases was becoming rather embarrassing for all officials involved.
BitCoin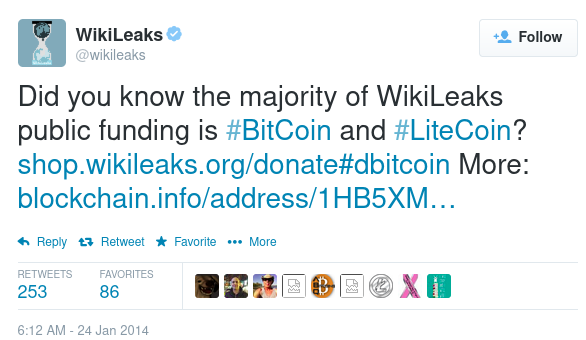 By this time, a majority of WikiLeaks funding was coming through online cryptocurrency. Their early adoption of Bitcoin was seen as a major catalyst for its global expansion. They would have adopted Bitcoin even earlier if not for the concerns of the BTC inventor "Satoshi Nakamoto", who was afraid that early adoption would surpass the rate of development.
On 5 December 2010, a user on the BitcoinTalk forum encouraged WikiLeaks to start using Bitcoins and see what happened. "Basically, bring it on," he said. Satoshi replied:
"No, don't 'bring it on'. The project needs to grow gradually so the software can be strengthened along the way. I make this appeal to WikiLeaks not to try to use Bitcoin. Bitcoin is a small beta community in its infancy. You would not stand to get more than pocket change, and the heat you would bring would likely destroy us at this stage."
Satoshi disappeared after making his last few posts on the forum a week later:
"It would have been nice to get this attention in any other context. WikiLeaks has kicked the hornet's nest, and the swarm is headed towards us."
WikiLeaks did not adopt Bitcoin until June 2011. It quickly became an essential part of their success story. In 2022 WikiLeaks supporters raised over $50 million in cryptocurrency donations from around the world.

By early 2013 WikiLeaks' official Blockchain.info address had received 3,855 BTC from over 2,200 transactions. In June 2013, WikiLeaks raised 7.18 BTC to support Edward Snowden. In December 2013 alone WikiLeaks received 56 BTC (then worth USD$46,444.68). Aside from helping keep staff paid and servers online, this was an important reminder that despite all the hostility from media and politicians, WikiLeaks and Assange remained hugely popular with the global crypto community.
Assange Meets Google
The book stemmed from an afternoon visit to Ellingham Hall in June 2011, when Julian Assange had agreed to a requested meeting with Eric Schmidt, the executive chairman of Google, and Jared Cohen, the director of Google Ideas. They wanted to interview Assange for their own upcoming book, "The New Digital Age". Also present at the meeting were Lisa Shields, then Schmidt's latest sex partner but later vice president of the Council on Foreign Relations, and Scott Malcomson, the communications director for Google's International Crisis Group.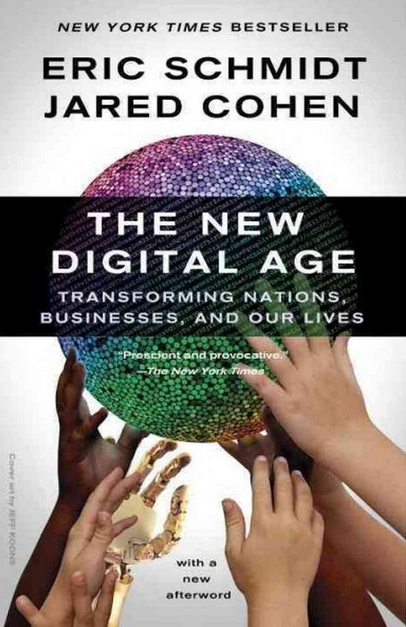 Assange said he agreed to the meeting at his rural Norfolk abode because Google was "a very influential company, if not the most influential company insofar as how the world is developing" and he "wanted to influence Schmidt to create a better Google." He was evidently not very successful in that goal, but the meeting had encouraged him to think more deeply about Google, and investigate their activities in depth. Especially after he phoned the State Department in August 2011 and got a response from Lisa Shields rather than a US government official.
In February 2012, when WikiLeaks published emails from the Texas-based private intelligence firm Stratfor, Assange got even more surprises about Google, particularly "Ideas" man Jared Cohen:
Cohen's directorate appeared to cross over from public relations and "corporate responsibility" work into active corporate intervention in foreign affairs at a level that is normally reserved for states. Jared Cohen could be wryly named Google's "director of regime change."
An email from Fred Burton, Stratfor's vice president for intelligence and a former State Department official, stated:
"Google is getting WH [White House] and State Dept support and air cover. In reality they are doing things the CIA cannot do …​ [Cohen] is going to get himself kidnapped or killed. Might be the best thing to happen to expose Google's covert role in foaming up-risings, to be blunt. The US Gov't can then disavow knowledge and Google is left holding the shit-bag."
As Assange later wrote in a New York Times Op-Ed:
At their core, companies like Google and Facebook are in the same business as the U.S. government's National Security Agency. They collect a vast amount of information about people, store it, integrate it and use it to predict individual and group behavior, which they then sell to advertisers and others. This similarity made them natural partners for the NSA, and that's why they were approached to be part of PRISM, the secret Internet surveillance program.
Unlike intelligence agencies, which eavesdrop on international telecommunications lines, the commercial surveillance complex lures billions of human beings with the promise of "free services." Their business model is the industrial destruction of privacy. And yet even the more strident critics of NSA surveillance do not appear to be calling for an end to Google and Facebook.
Or as Assange told Vogue: "when the product is free, you are the product."
Assange wrote that on a personal level, Schmidt and Cohen were perfectly likable people who "genuinely believe in the civilizing power of enlightened multinational corporations" but their mission to help a supposedly "benevolent superpower" re-shape the world was dangerously wrong.
"They will tell you that open-mindedness is a virtue, but all perspectives that challenge the exceptionalist drive at the heart of American foreign policy will remain invisible to them. This is the impenetrable banality of "don't be evil." They believe that they are doing good. And that is a problem".
Google responded to Assange's book with what appeared to be a carefully-timed Christmas present:

Google had complied with a US federal warrant to turn over the emails and metadata of three WikiLeaks staff members - Sarah Harrison, Joseph Farrell and Kristinn Hrafnsso - on 5 April 2012. Apparently Eric Schmidt and his lovely friends had forgotten to mention that on their visit. Michael Ratner, the US lawyer for WikiLeaks and Assange, said that "essentially everything associated with the accounts of these three journalists" was seized by the US government, including all metadata and even deleted emails.
"The warrants acted like a huge vacuum cleaner," he said. "It's shocking that the US would do that to a journalist organization and to journalists working in that organization."
After WikiLeaks issued a statement condemning Google's involvement, Google lawyers insisted that they had fought back against the US government gag orders and sought to have legal warrants unsealed. They claimed that the intransigence of US prosecutors had hardened after public embarrassment over the 2010-11 Twitter subpoenas of WikiLeaks insiders.
"The U.S. attorney's office thought the notice and the resulting publicity was a disaster for them…​ They were very upset…​ They went through the roof…​ The U.S. attorney's office is like: 'Hell no — we'll fight you forever.' "
Supporters & Stuff
On 1st November 2014 WikiLeaks released a statement welcoming a US court decision not to jail thirteen of those involved in the anti-PayPal protests of 2010. The defendants were ordered to each pay $5,600 in "restitution". WikiLeaks posted a link to the Wau Holland Foundation, which was raising money to help with these costs.
Later in November over 70 actors, musicians, and intellectuals signed a statement in support of WikiLeaks and whistleblowers. Actor Viggo Mortensen said:
"As Albert Camus once put it, governments, by definition, do not have consciences; they have policies and nothing more. Therefore, it is up to all of us as free-thinking citizens to demand truly transparent democracy and high, unbiased moral standards from those who govern us."
The announcement coincided with the expanded theatrical release of Laura Poitras' documentary film "CitizenFour", which tracked Edward Snowden's incredible journey from US whistleblower to exile in Russia, and went on to win an Oscar for Best Documentary Feature in 2015.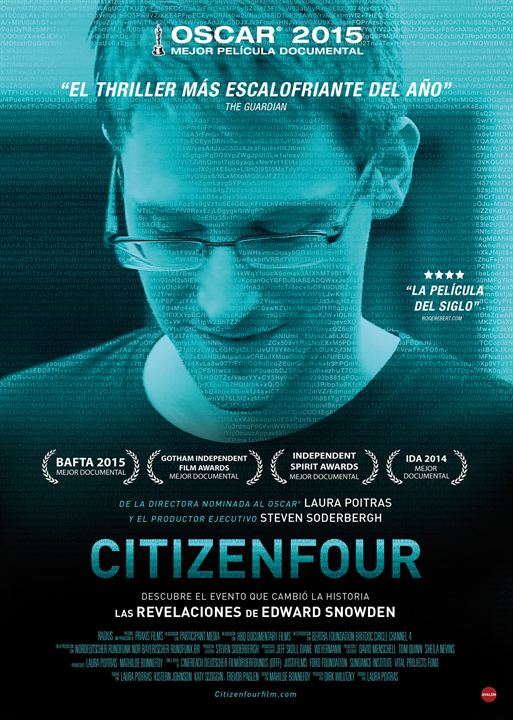 On 17 December Julian Assange released a statement in support of Barrett Brown, a WikiLeaks supporter who had been been arrested in 2012 after allegedly threatening an FBI agent online. Brown had tweeted "illegally shoot the son of a bitch" which prosecutors claimed was incitement to murder. But in fact he was quoting Fox news host Bob Beck, who had made the remark about Julian Assange:
"Dead men can't leak stuff …​ illegally shoot the son of a bitch".
Assange asked why the FBI had arrested Barrett Brown two days later, but never took any action against Bob Beckel or numerous other senior figures who publicly called for his assassination.
In December 2014 WikiLeaks published a CIA internal review of their "High Value Target" (HVT) assassination programme. Following the CIA's release of the report, which examined the pros and cons of killing "insurgent" leaders in assassination plots, US drone strike killings had risen to an all-time high. WikiLeaks also published two classified CIA documents (from a previously undisclosed CIA office) which detailed how to maintain cover while travelling through airports using false ID – "including during operations to infiltrate the European Union and the Schengen passport control system". WikiLeaks said this was just the start of a series of CIA revelations that would continue in the new year.

THE NEXT CHAPTER IS ON THE WAY SOON!
The author of this book can be found on Twitter: @Jaraparilla
Copyright Gary Lord 2021, 2022