Chapter Ten: Mid 2011
5 April 2011 marked one year since the release of Collateral Murder. Wikileaks was now seeking new media partners.


On 12 April WikiLeaks founder Julian Assange appeared on Australia's primetime 7:30 Report. Host Leigh Sales suggested it must feel "unreal" to come from "sleeping rough on the streets of Melbourne" to global celebrity status.
"Well it does feel unreal," replied Assange, "because I've never slept rough on the streets of Melbourne."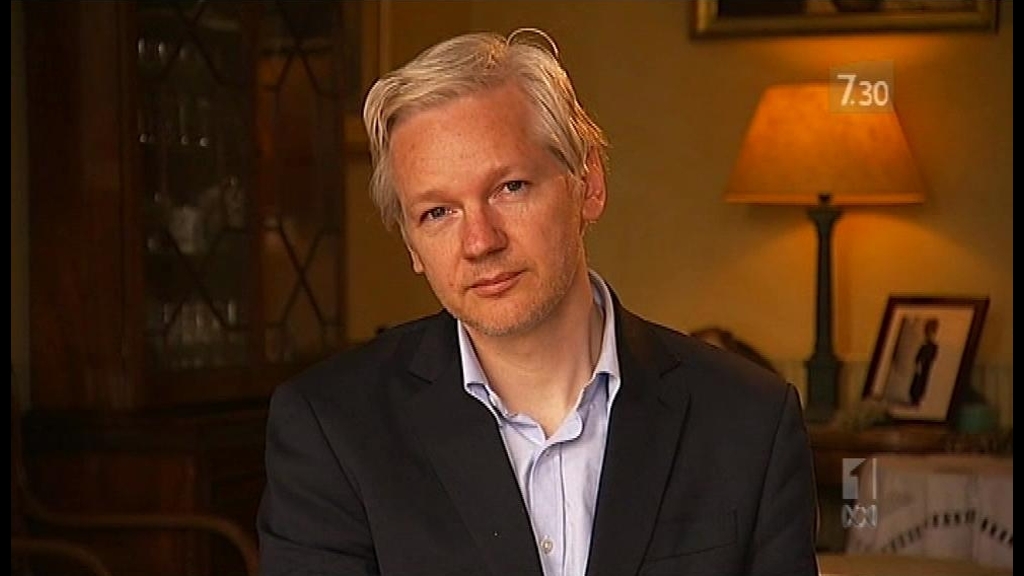 Leigh persisted with the negative questions:
"As I said before you've developed a very high profile and not everybody likes you, to put it gently. Do you fear for your life?"
"I have to disagree with that actually."
"You think everybody does like you?"
"No, not everybody, but these sorts of statements are in fact mischievous. I mean, if we look at Australian opinion polls, actually Wikileaks and myself have far greater popularity amongst the Australian population than sitting prime ministers have had in many years."
At a U.C. Berkeley debate on the same day, Julian Assange traded barbs via Skype with New York Times editor Bill Keller, who defended his decision to make Assange seem like an unhinged loser because it made his front page "bag lady" hit piece more readable.
"We weren't writing an academic report - it was a story. That was information the reporter brought to me, and it was used as color."

Assange noted that the Times had gone to extreme lengths to pretend there was no collaboration with WikiLeaks - even pressing for Wikileaks to publish documents before it did - in case they were accused of violating the Espionage Act.
"That's why The New York Times is careful to say this was not a collaboration. What the Times is afraid of is that one man's collaboration is another man's conspiracy."
A week later Britain's The Guardian was named UK Newspaper Of The Year for their work with WikiLeaks. Why didn't the New York Times also win a Pulitzer for their coverage? According to WikiLeaks they were "too timid to nominate".
The Atlantic released a study in the same week showing that over half of the New York Times daily issues in the past twelve months had relied on stories related to WikiLeaks:
It now seems routine for WikiLeaks to serve as a source when it comes to American diplomacy, especially regarding the Middle East…​
By our count, on 54 days so far this year, the paper's reporters have relied on WikiLeaks documents as sources for their stories. Since April 25th is the 115th day of the year, that's nearly half of all their issues this year. And just to be clear, we didn't count stories that merely mentioned WikiLeaks or Julian Assange or Bradley Manning, only the ones that used documents from the site as a reporting source.

A Google Earth visualisation at the time showed how WikiLeaks mirror sites had spread across the globe: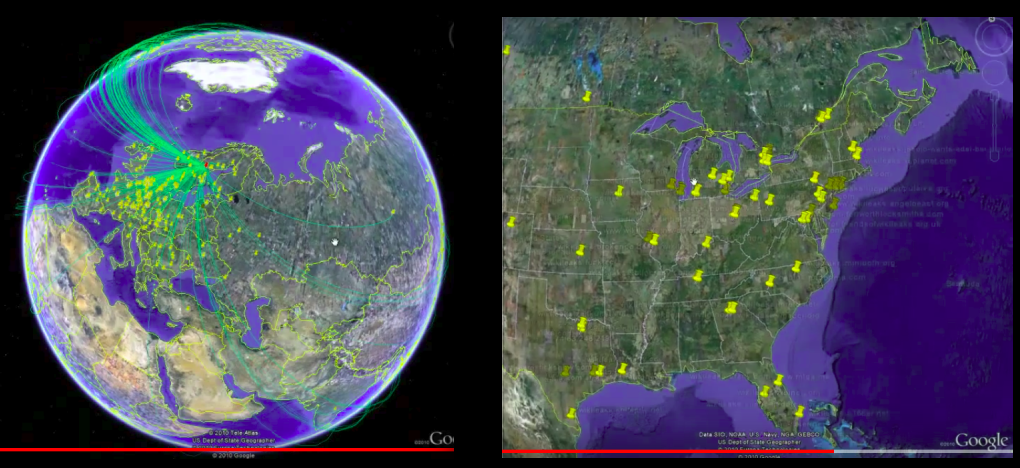 A new poll also showed overwhelming public support for Assange and WikiLeaks around the world.
A 24-country poll found that most people believe WikiLeaks co-founder Julian Assange is not a criminal and should not be charged by the U.S. government for releasing thousands of secret U.S. documents. The poll by Ipsos found 79 percent of people were aware of WikiLeaks and two-thirds of those believed Assange should not be charged and three-quarters supported the group's bid to make public secret government or corporate documents.
U.S. respondents had a far more critical view, with 81 percent aware of WikiLeaks and 69 percent of those believing Assange should be charged and 61 percent opposing WikiLeaks' mission.
The countries found least likely to support legal action against Assange by the U.S. government were South Africa, Germany, Russia and Argentina, while the highest support was in the United States, South Korea, Britain, India and Indonesia.

Another poll showed that just 48% of US citizens were familiar with the latest WikiLeaks release, but 52% of those people agreed that "the release of the information was good and made the government accountable". In addition, 73% of them "expressed a lack of confidence in governments' ability to prevent future data leaks". Nevertheless, 64% of all those surveyed wanted WikiLeaks shut down.
And in Sweden, a poll of 9,000 lawyers found nearly a third of them agreed with Julian Assange's criticisms of the Swedish legal system:
"We're of the opinion that remand in Sweden is used in a way that many other states governed by the rule of law would find unfamiliar…​ The system is built up so that, in principal, the suspect doesn't have any insight into the preliminary investigation."
On 21 April 2011 a group of disillusioned Obama voters paid $76,000 for tickets to a fundraiser where they cornered the President, sang him a song, and then asked about the treatment of Chelsea Manning. While Manning still had not been given a trial, the US Commander-In-Chief was caught on video saying that Manning "broke the law". Obama also said "it wasn't the same thing" as what Daniel Ellsberg had done with the Pentagon Papers because the information "wasn't classified in the same way."
A White House spokesman later denied that Obama was "expressing a view as to the guilt or innocence of Pfc. Manning specifically". But clearly any chance of a fair trial had been prejudiced. Meanwhile both Manning and Assange were racing up the charts in TIME magazine's annual "most influential people" poll.

On 25 April WikiLeaks tweeted that they were taking a break from publishing. In fact, they were working with a new team of media partners, and seeking to scoop their old media partners with a big new release.
In December 2010 Reuters had reported that WikiLeaks had even more files from the USA's Guantánamo Bay prison.
WikiLeaks founder Julian Assange, jailed in Britain this week, has told media contacts he has a large cache of U.S. government reports about inmates at the detention facility at Guantánamo Bay, Cuba…​ "He's got the personal files of every prisoner in GITMO," said one person who was in contact with Assange earlier this year.
Who could that "one person" have been? How did they know about the files? And might they have been a little bit surprised later that day…​?

Gitmo Files
LulzSec

The day after the Grand Jury questioned David House, a group of online activists brought down the CIA's website. The #LulzSec group had aleady ammassed 150,000 followers on Twitter after previously bringing down the US Senate, FBI affiliate Infraguard, numerous international Sony sites, US media company PBS (see above), Nintendo and several other video games companies.

In many of the attacks, including on Bethesda, the US Senate and pornography website pron.com, LulzSec also released sensitive data online such as the usernames and passwords of users. These lists even revealed that people with White House email addresses had signed up to watch porn.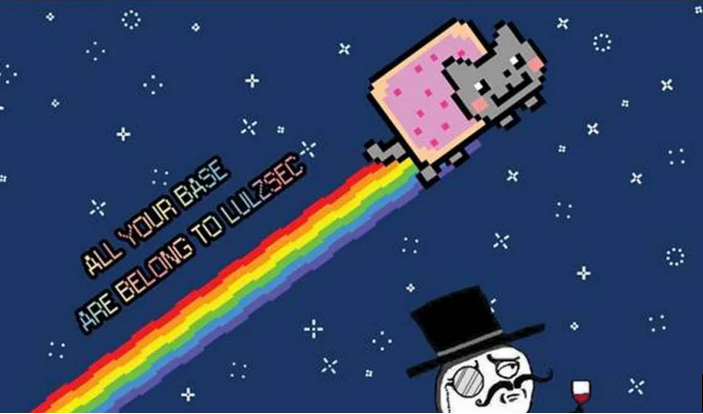 Supporters revelled in the outspoken hacktivists' humourous and headline-grabbing protests. Nobody knew that the group's de-facto "leader" Hector Monsegur (aka "Sabu") had been arrested by the FBI a week earlier on 7 June 2011. With Monsegur now actively working as an FBI partner and informant, it was effectively the FBI who had just brought down the CIA's website. The FBI even provided its own servers to support the hacking.
LulzSec had first "declared war" on 4 June with a pastebin statement for Operation Anti-Security (#AntiSec) which sought help targeting "the government and whitehat security terrorists across the world":
Top priority is to steal and leak any classified government information, including email spools and documentation. Prime targets are banks and other high-ranking establishments. If they try to censor our progress, we will obliterate the censor with cannonfire anointed with lizard blood. It's now or never. Come aboard, we're expecting you…​
Just three weeks later, on June 25th, LulzSec declared their 50 day "cruise" was ended and "it's time to say bon voyage".
Thank you for sailing with us. The breeze is fresh and the sun is setting, so now we head for the horizon.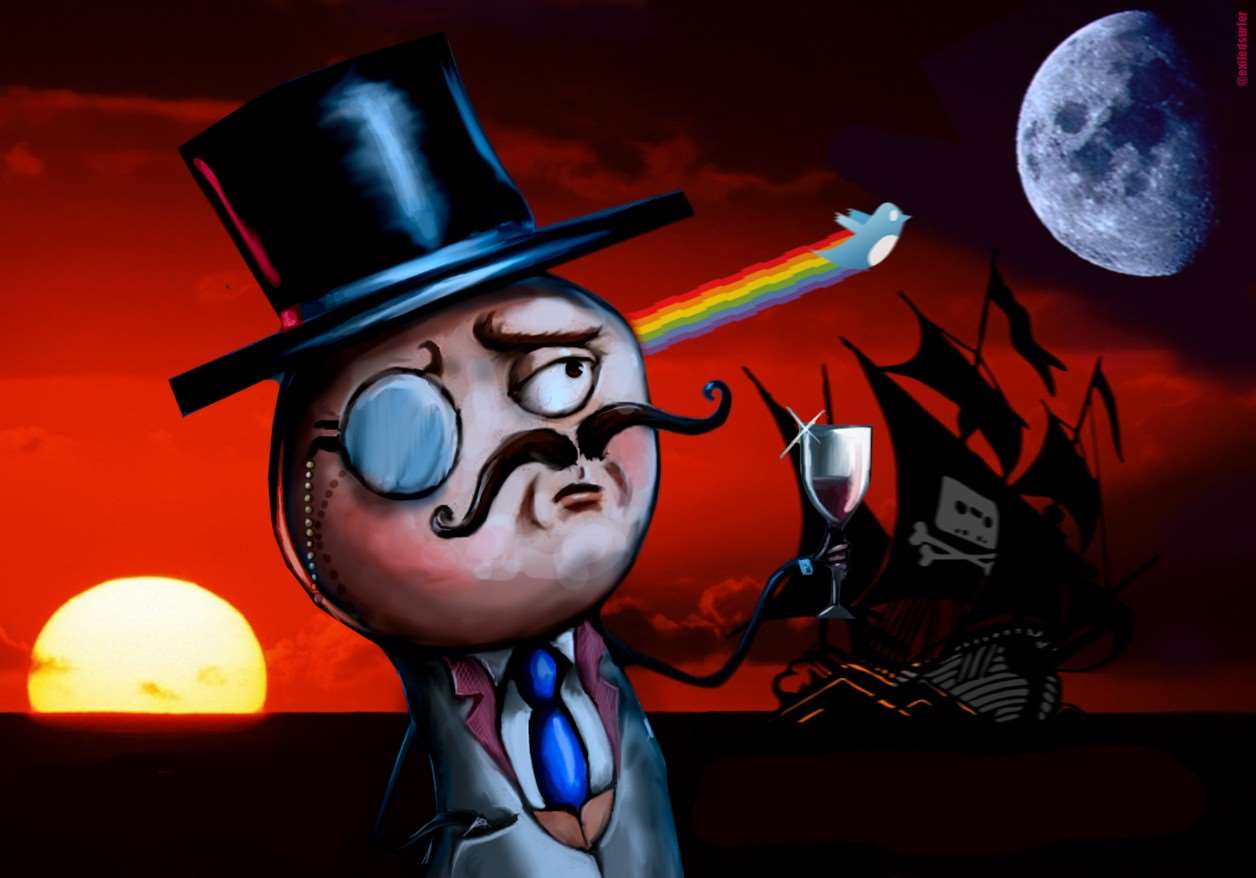 Nevertheless, the attacks and threats continued. On 11 July, the day before the Assange case was due be heard at the Royal Courts of Justice, Sabu's FBI-controlled account warned:
ATTN: Tomorrow will be two of the biggest releases for Anonymous in the last 4 years. Everyone brace. This is literally explosive. #antisec
ATTN Intelligence community: Your contractors have failed you. Tomorrow is the beginning. #ANONYMOUS #ANTISEC
The Guardian, who a week earlier had published "leaked" LulzSec group IRC chat logs, quoted Anonymous hackers warning that 12 July would be "the biggest day in Anonymous's history". They said "several top-level members of Anonymous are eager to launch attacks based around Julian Assange's appeal hearing".
The collective is understood to be seeking to express anger over News International's phone hacking and at the threatened extradition of WikiLeaks founder Julian Assange.
WikiLeaks accused the Guardian of "spinning a story" to prejudice the judges. Rather than targeting UK police or courts on 12 July, Anonymous hacked into US agricultural giant Monsanto instead. A day earlier #AntiSec hackers had released 90,000 email accounts and passwords from US defense contractor Booz Allen Hamilton, who insisted that government and military information remained secure.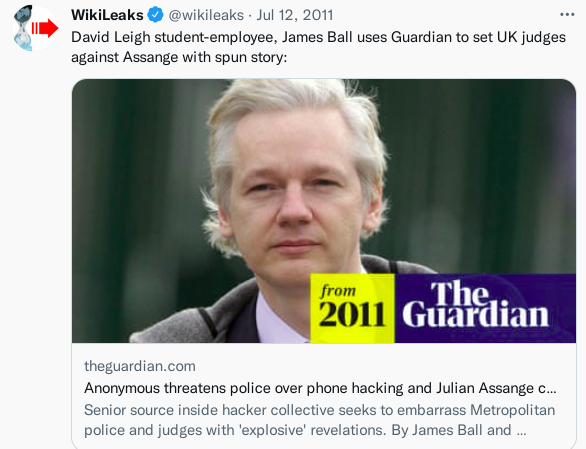 On 18 July LulzSec posted a story on Rupert Murdoch's "The Sun" website, declaring that the media mogul was dead. Murdoch was "said to have ingested a large quantity of palladium before stumbling into his famous topiary garden". The Sun's website was later redirected to the @LulzSec Twitter feed. This followed new revelations in the News Of The World phone-hacking scandal and the death of whistle-blower Sean Hoare.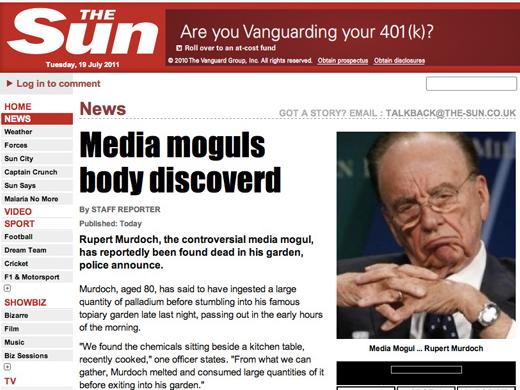 Meanwhile the FBI and foreign police forces had been busy arresting anyone connected with the attacks. Many were just teenagers. Chicago activist Jeremy Hammond, who was also accused of involvement in the hacking of Stratfor, received a ten-year prison sentence; he was later summoned by the WikiLeaks Grand Jury, where he refused to testify. Hector Monsegur was rewarded for his collaboration with an early release from prison in May 2014.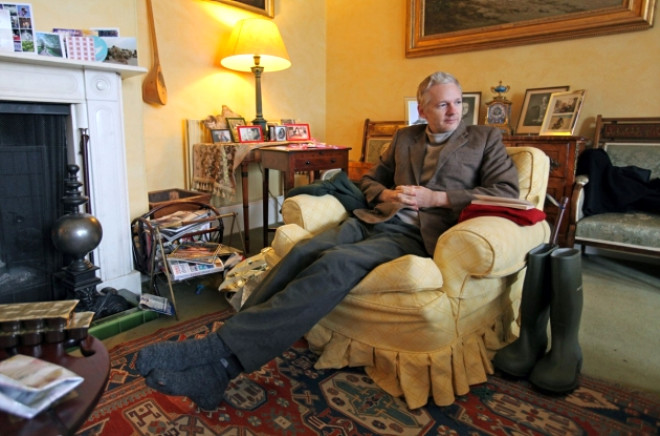 On 3 July 2011, Julian Assange celebrated his 40th birthday with a large gathering of friends and supporters at Elligham Hall. The WikiLeaks Editor-In-Chief, who was still wearing an ankle bracelet that tracked his every movement, including his daily trips to the local police station, had now been under house arrest for over six months. By this time, US intelligence officials were secretly plotting to designate WikiLeaks as "a 'malicious foreign actor' for the purpose of targeting." This would allow them to target WikiLeaks and associates - including US citizens - with extensive electronic surveillance.
As a tongue-in-cheeck publicity stunt, and in the hope of garnering more high profile supporters, Assange sent birthday invitations (complete with directions for private jets and helicopters) to Hollywood celebrities like Brad Pitt and Angelina Jolie. Former UK Ambassador Craig Murray, who became a close friend of Julian's, was not impressed:
"I hope when Assange's celebrity dies down, those helicopter riders will still support him. I doubt it."
In fact they never even responded. The party featured an auction of donations to raise funds for Assange's legal expenses, with personal bids establishing a reserve price before items went on Ebay. A week earlier, UK media had reported that a $1.5 million deal for Assange's biography had fallen through, and WikiLeaks donations were being funneled into the Julian Assange Defense Fund.


A week later, Assange's lawyers launched a fresh appeal against his extradition at the High Court in London. At his first appeal to the Westminster Magistrates Court in February, the judge had dismissed claims that he would not get a fair trial in Sweden, and that the extradition attempt was politically motivated. When Assange again lost this expensive appeal to the High Court, after four months of deliberation, his last British legal resort would be an even more expensive appeal to the UK's Supreme Court.
Beyond that, his final avenue of appeal would be to the European courts, where his legal team remained optimistic; many supportive European MPs had already condemned Sweden's abuse of the "imperfect" European Arrest Warrant processes.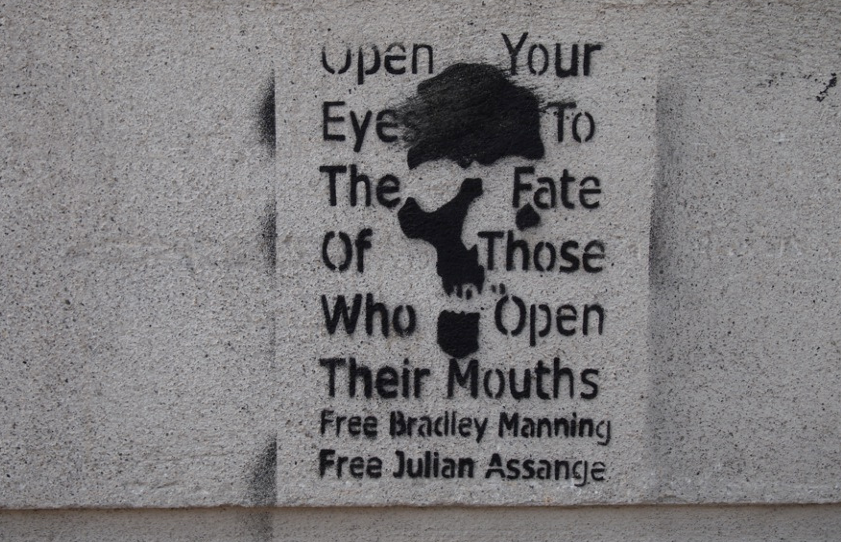 The author of this book can be found on Twitter: @Jaraparilla
Copyright Gary Lord 2021, 2022