Chapter Twenty: Late 2016
The second half of 2016 saw WikiLeaks's fame and influence escalate to unprecedented levels. Attacks also mounted as powerful networks of influence sought any means possisble to discredit the organisation and destroy Julian Assange.
From late July through till 8th November, the day of the US election, WikiLeaks continued releasing batches of leaked emails from Hillary Clinton and her senior Democrat colleagues, who continued to insist - with no public proof - that their emails had been hacked by Russia and given to WikiLeaks.
These leaked emails appeared to come from two sources. WikiLeaks called the initial release of about 20,000 emails the "DNC Leaks", saying it was "part one of our new Hillary Leaks series". The second set of emails came from the account of John Podesta, the chairman of Hillary Clinton's 2016 presidential campaign, and were called the "Podesta Emails".
By now the WikiLeaks team had learned that media organisations rushed to pick up major stories from huge archive releases, but then quickly dismissed the remaining stories as "old news". By releasing these new emails in smaller batches, WikiLeaks ensured that every important story got maximum media coverage, which was part of the organisation's commitment to whistle-blowers.
The relentless drip of new emails created a nightmare scenario for Hillary Clinton's presidential campaign. Clinton campaign spokesman Glen Caplin angrily complained:
"By dribbling these out every day WikiLeaks is proving they are nothing but a propaganda arm of the Kremlin with a political agenda doing Putin's dirty work to help elect Donald Trump."
Russian President Vladimir Putin denied involvement and said Russia was being unfairly blamed. Under massive pressure from the Democrats, plus Western media and intelligence agencies, Julian Assange took the unprecedented step of denying that Russia was WikiLeaks' source. Nobody has ever been able to prove him wrong.
DNC Leaks
On 22 July 2016, WikiLeaks began releasing 44,053 emails and 17,761 attachments from seven key figures at the top of the Democratic National Committee (DNC), the governing body of the US Democratic Party, whose annual convention was held just three days later. A second batch was released on 7 November, the day before the US election. The leaked emails were dated from January 2015 to 25 May 2016.

The leaked emails showed how the Democratic Party had improperly colluded to help Hillary Clinton win the Democratic primary over her more popular rival Senator Bernie Sanders. One email from former DNC head Debbie Wasserman Schultz flatly stated that Bernie Sanders "isn't going to be president." Another dismissed Bernie Sanders' campaign manager as a "damn liar" and "particularly scummy." Wasserman Schultz was forced to resign, along with several other party officials.
The leaked emails also showed how liberal media figures had colluded with pro-Clinton DNC officials to ensure that Clinton received inside information and optimal coverage. One journalist mentioned repeatedly in the emails was CNN's Jake Tapper, who responded with a statement saying the emails came from "a hack into the DNC". This became a common response: as long as WikiLeaks refused to betray their source(s), it was easy to accuse them of hacking, or at least benefitting from a hack. The Democrats also refused to confirm or deny the authenticity of the emails, leading some to falsely claim they were not authentic.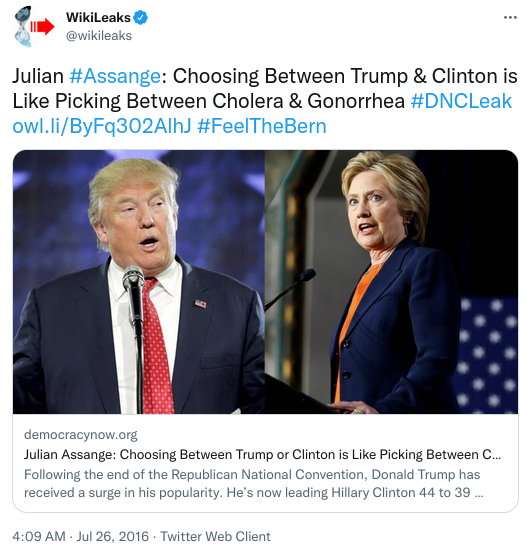 When asked if the DNC Leaks indicated that he preferred Donald Trump over Hillary Clinton, Julian Assange replied that it was like "a choice between Cholera and Gonnorhea". For months to come, he was forced to repeat that WikiLeaks could only publish what material they received. If anyone had dirt on Donald Trump, he asked them to submit it. But he also pointed out that Clinton had constantly attacked WikiLeaks and even suggested killing him with a drone.
According to The New York Times, the DNC Leaks revealed "in rarely seen detail the elaborate, ingratiating and often bluntly transactional exchanges necessary to harvest hundreds of millions of dollars from the party's wealthy donor class".
"The emails capture a world where seating charts are arranged with dollar totals in mind, where a White House celebration of gay pride is a thinly disguised occasion for rewarding wealthy donors, and where physical proximity to the president is the most precious of currencies."
The Observer declared the DNC Leaks "the perfect end to a Democratic primary that undermined democracy at every possible opportunity."
Swedish Questioning
On 20 June 2016 Ecuador revealed that the Swedish authorities had finally made an official request to come and interview Julian Assange in the embassy. They would have traveled to London six years earlier but British Crown Prosecutors secretly told them not to come.
Following extensive negotiations between lawyers and government officials, Sweden's deputy chief prosecutor, Ingrid Isgren, eventually arrived at the embassy on Monday 14 November, with an Ecuadorean state attorney also present, to question Assange about his contact with Sofia Wilén. He was not questioned about Anna Ardin's allegations because the Swedish prosecutors had already let the five year statute of limitations expire on her lesser case.
Assange's lawyer, Per Samuelsson, was reportedly left standing outside the embassy because Swedish prosecutor Marianne Ny had left him off the official list of invitees. Assange went ahead with the questioning anyway.
"We have requested this interview repeatedly since 2010," said Samuelsson. "Julian Assange has always wanted to tell his version to the Swedish police. He wants a chance to clear his name. We hope the investigation will be closed then."
Ecuador's prosecutor, Galo Chiriboga, later said that Ecuadorean officials would send the official transcript of Assange's evidence to Swedish authorities "in mid-December".
Meanwhile, following the the UN working group's findings against Sweden in February, Assange's lawyers had also filed an appeal to a Swedish court, arguing that the country must comply with the UN decisions. But on 16 September the Swedish court upheld the arrest warrant for Julian Assange. This was the eighth time the European Arrest Warrant had been tested in a Swedish court, and every one of the rulings had gone against Assange.
On 7 December 2016 Julian Assange publicly released the full statement he had given to Swedish prosecutors, declaring that he was "entirely innocent" and the evidence showed only "consensual sex between adults". Assange said he had been subjected to "six years of unlawful, politicised detention without charge".
"I want people to know the truth about how abusive this process has been…​ In the past the prosecution has fed partial information to tabloids that politically oppose me. It is better that my statement, which I am happy with, and which makes it obvious to all that I am innocent, sees the light in full."
Elisabeth Massi Fritz, the lawyer for Sofia Wilén and also the family lawyer of then Swedish Prime Minister Reinfeldt, said the release of the statement was "unfortunate".
"The only thing I can say is that Assange has low credibility, which we will prove when we prosecute. I expect the prosecutor to issue charges. I also expect Assange to stop violating my client in the media. She has suffered more than enough for six years."
Sweden eventually closed the Assange case, for the third time, without ever pressing any charges or advancing the case beyond the "preliminary investigation" stage, in May 2017.
Podesta Emails
On 7 October 2016 WikiLeaks began releasing emails from John Podesta, the chairman of Hillary Clinton's 2016 presidential campaign. Assange later said that Podesta had fallen for a simple phishing scam that revealed his Gmail password, which was allegedly "password". Podesta's emails revealed similarly sloppy security passwords for other accounts: his iCloud and Twitter accounts were also subsequently compromised. US intelligence officials later blamed Russian "Fancy Bear" hackers for the phishing scam but Assange said "this is something a 14-year-old kid could have hacked".
One Podesta email showed CNN's Donna Brazile giving Hillary Clinton (but not Bernie Sanders) advance notice of TV debate questions. Brazile, who took over as DNC head when Wasserman Shultz resigned, initially denied doing this, but in 2017 she admitted "sending those emails was a mistake I will forever regret".
Donna Brazile also admitted that Clinton's campaign manager Robby Mook had made a secret deal which specified that "in exchange for raising money and investing in the DNC, Hillary would control the party's finances, strategy, and all the money raised". This included giving Clinton's team control over "staffing, budgeting, data, analytics, and mailings." As she told Bernie Sanders, he never had a chance.
CNN's Chris Cuomo ridiculously warned TV viewers not to read the leaked emails for themselves:
"Also interesting is, remember, it's illegal to possess these stolen documents. It's different for the media. So everything you learn about this, you're learning from us."
Glenn Thrush, Politico's "Chief Political Correspondent", was another journalist exposed (in his own words) as a corrupt "hack".

One Podesta email included an 80 page attachment with text from Hillary Clinton's private fund-raising speeches to Wall Street executives. The transcripts showed that her "public position" was often at odds with her "private position". Clinton told bankers she had "great relations" with Wall Street and "the jury is still out" on whether financial reforms were required after the 2008 Global Financial Crisis.
"What happened, how did it happen, how do we prevent it from happening? You guys help us figure it out…​ You are the smartest people."
In another speech Clinton talked about doing a global "apology tour" after the 2010 Cablegate leaks, where some foreign leaders were described as "vain, egotistical, power hungry, corrupt. And we knew they were. This was not fiction."
"I had grown men cry," Clinton said. "I mean, literally. 'I am a friend of America, and you say these things about me?'"
Perhaps the biggest surprise in the Podesta emails was an old strategy document which showed that the Clinton Democrats had deliberately chosen Donald Trump as one of three so-called pied piper candidates that they wanted to win the Republican Party nomination. They detailed how the DNC and the media should promote these preferred candidates.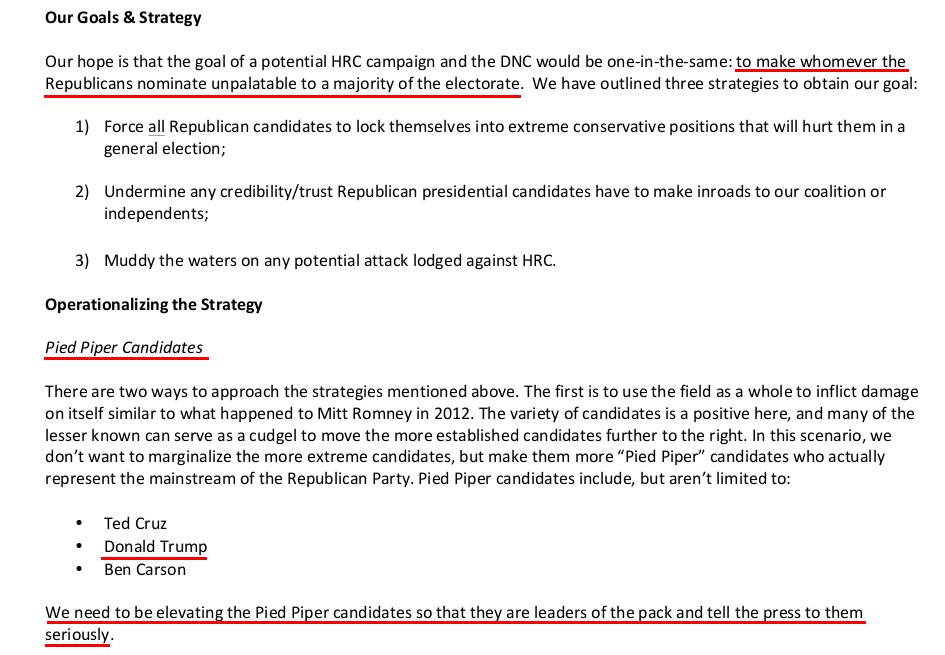 Trump, meanwhile, was constantly urging his followers to read the latest WikiLeaks revelations. "I love WikiLeaks!" he shouted to huge crowds at his rallies.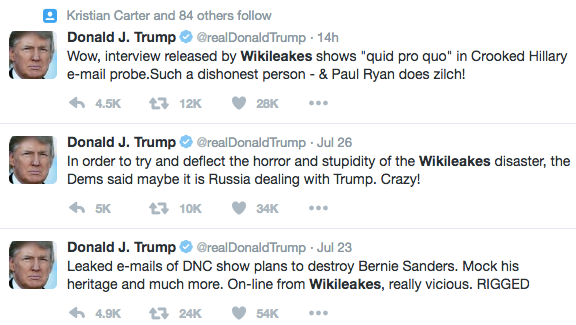 On 12 October Trump posted a tweet complaining about a perceived lack of media coverage for the latest Podesta emails.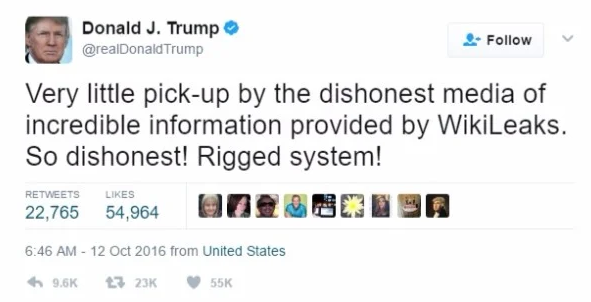 Media attention was still largely focused on the "Access Hollywood" tape that the Washington Post had released five days earlier. In a secretly taped conversation from 2005, Donald Trump was seen and heard boasting about his sexual exploits.
"When you're a star they let you do it," Trump says in the recording. "You can do anything…​ grab them by the pussy…​ I did try and fuck her, she was married."
Some observers speculated that this secret tape was one of the reasons why the Clinton campaign had wanted to promote Trump as a "pied piper" candidate. Democrats complained that the latest batch of Podesta emails had been leaked just hours after the Access Hollywood, and blamed WikiLeaks for deliberately trying to protect Trump. But Italian journalist Stefania Maurizi, a longtime WikiLeaks media partner, confirmed that the timing of the WikiLeaks release had been planned days in advance.
Ecuador Cuts Off Internet

On 17 October 2016 the government of Ecuador shut down Julian Assange's Internet access. They claimed it had nothing to do with US politics.
In a statement, Ecuador's leftist government said WikiLeaks' decision to publish documents impacting the U.S. election campaign was entirely its own responsibility, and the South American country did not cede to pressure from other nations.
The move came just days after WikiLeaks released Clinton's Wall Street speeches, but the US State Department also denied any role in restricting Assange's internet access.
President Rafael Correa, who had granted asylum to Assange in 2012, was now facing huge pressure from US-backed opposition and media in the run-up to Ecuador's 2017 election. After nearly ten years in power, despite significantly reducing poverty, raising the minimum wage and increasing the standard of living in Ecuador, his popularity was dropping.
Correa had already stated that he did not agree with everything WikiLeaks did, and usually left statements about Assange to his Vice President and other officials. Nevertheless, corporate media in Ecuador constantly used the Assange case as an excuse to attack Correa, echoing US media lies about collusion with Russia. Western media also sought to portray Correa as an enemy of press freedom. Assange was a major political distraction and Correa did not want to make him a key domestic election issue.
Death Of Gavin MacFadyen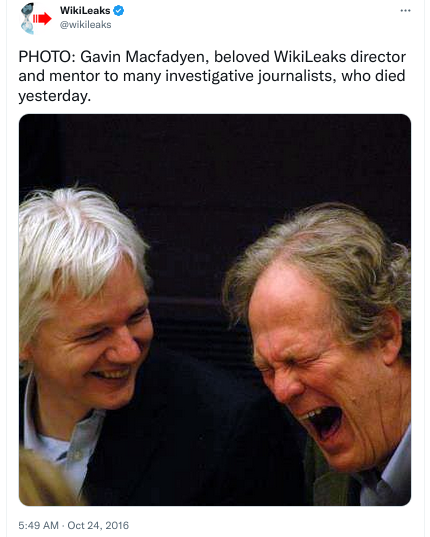 On October 22, Gavin MacFadyen, a hugely respected journalist and documentary film-maker, a world leader of press freedom and whistle-blower protection, and a close friend and supporter of Julian Assange, died in London at the age of 76.
MacFadyen was a was a WikiLeaks director who co-founded the Center for Investigative Journalism and set up the Julian Assange Legal Defense committee along with journalist John Pilger. The FBI had been keeping a file on MacFadyen, a committed civil rights activist, since at least 1963 and still refused to release their information after his death, citing "an ongoing investigation" and "national security".
Julian Assange requested permission to temporarily leave his asylum inside the Ecuadorian embassy in order to attend MacFadyen's funeral. Swedish Prosecutor Marianne Ny turned down the request and used the opportunity to issue another press release instead. Julian Assange condemned her callous response:
I am heart-broken that this official has rejected my request to attend Gavin's funeral. Her rejection is consistent with the corrupt and frankly wicked manner in which she has exercised her "discretion" over me, as the UN also ruled earlier this year. I am deeply shocked that this official would use my request for compassion as an opportunity for publicity by issuing a press release boasting of her rejection about this deeply personal matter. This callous official has shown no consideration for my grief or that of Gavin's family.
Russiavape
In early October 2016 the US Department of Homeland Security and the Office of the Director of National Intelligence posted a joint statement, claiming they were "confident" that the Russian government had "directed" the hacking of the Clinton/DNC emails. But they were still unable to prove that WikiLeaks was in any way linked to the alleged Russian hacking.
On 3 November Julian Assange took the extraordinary step of flatly denying that Russia was the source of the DNCLeaks and PodestaEmails. He made the statement in an exclusive interview with John Pilger, whose company Dartmouth Films broadcast it on Russia Today.
""The Clinton camp has been able to project a neo-McCarthyist hysteria that Russia is responsible for everything. Hillary Clinton has stated multiple times, falsely, that 17 US intelligence agencies had assessed that Russia was the source of our publications. That's false – we can say that the Russian government is not the source."
Assange took personal aim at Hillary Clinton and referred to constant rumours about her health:
"Hillary Clinton is just one person. I actually feel quite sorry for Hillary Clinton as a person, because I see someone who is eaten alive by their ambitions, tormented literally to the point where they become sick – for example faint – as a result of going on, and going with their ambitions. But she represents a whole network of people, and a whole network of relationships with particular states."
In early December the Washington Post cited a secret CIA report, claiming US intelligence agencies had "identified individuals with connections to the Russian government who provided WikiLeaks with thousands of hacked emails." There was still no public evidence to prove this claim.
A few days later, former UK Ambassador Craig Murray clearly stated that he personally knew that Russia was not the source of either the DNC Leaks or Podesta Emails. How did he know? Because he had personally received the leaked data from an intermediary during a "clandestine hand-off in a wooded area" while attending the Sam Adams Award in Washington D.C.
Murray said the leakers' motivation was "disgust at the corruption of the Clinton Foundation" and the "tilting of the primary election playing field against Bernie Sanders".
"The source had legal access to the information. The documents came from inside leaks, not hacks. Regardless of whether the Russians hacked into the DNC, the documents Wikileaks published did not come from that."
Meanwhile the Clinton campaign had developed a far more extensive and sophisticated smear campaign against Trump. In June 2016, the Clinton campaign and the DNC paid a private intelligence company, Fusion GPS, to compile a dossier of information linking Donald Trump with Russia. The dossier was written by Christopher Steele, a former head of the Russia Desk at MI6, and it was full of salacious lies. Details were first published just a week before the US election.
It is beyond the scope of this book to provide a full account of the neo-McCarthyist "Russiagate" frenzy that eventually triggered the Mueller investigation, the FBI's Operation Crossfire Hurricane and numerous other investigations and revelations, but WikiLeaks was constantly dragged into the mud-slinging. WikiLeaks dismissed the constant smears as "Russiavape".
Months after the US election, Assange was still insisting that Russia was not WikiLeaks' source. He told Sean Hannity he was still "1,000% confident" that the source was not Russia.
"We can say, we have said, repeatedly that over the last two months that our source is not the Russian government and it is not a state party," Assange said.
In 2019, a group of former US intelligence agents provided compelling evidence that the emails had in fact come from a leak, not a hack. Their detailed analysis of email metadata proved that the emails had most likely been transferred to a thumb drive by a DNC insider.
US Election
WikiLeaks kept publishing batches of leaked emails right up to 8 November, the day of the US election.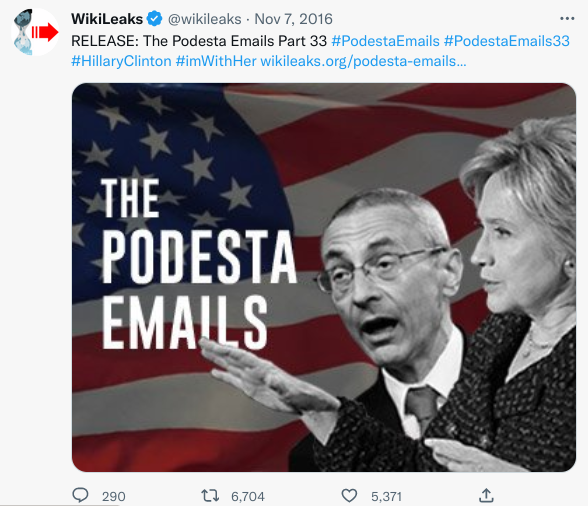 On the eve of the election, Assange issued an important statement defending WikiLeaks' decision to publish the emails.
Publishing is what we do. To withhold the publication of such information until after the election would have been to favour one of the candidates above the public's right to know…​. Wikileaks remains committed to publishing information that informs the public, even if many, especially those in power, would prefer not to see it. WikiLeaks must publish. It must publish and be damned.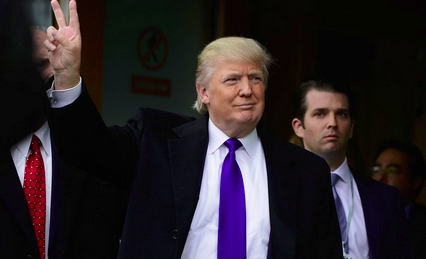 Donald Trump's election victory sent shockwaves around the world. The Guardian called it "one of the most improbable political victories in modern US history" which "set the world on a journey into the political unknown".
Wisconsin and Michigan, two states hit hard by a decline in manufacturing jobs and lost by Hillary Clinton to Bernie Sanders in the Democratic primary, were led by Trump as the race headed for an early morning cliffhanger.
At 2.30am, the Associated Press projected Trump had won Wisconsin and called the overall race for Trump, who passed the 270 electoral college votes he needed to secure the presidency…​
Exit polling by CNN suggested 88% of voters had made up their minds more than than a week ago, before last-minute FBI inquiries into Clinton's emails temporarily raised fears of a late Trump surge.
The pro-Clinton US media was stunned by the result. Newsweek was forced to recall 125,000 copies of it's souvenir "Madam President" magazine.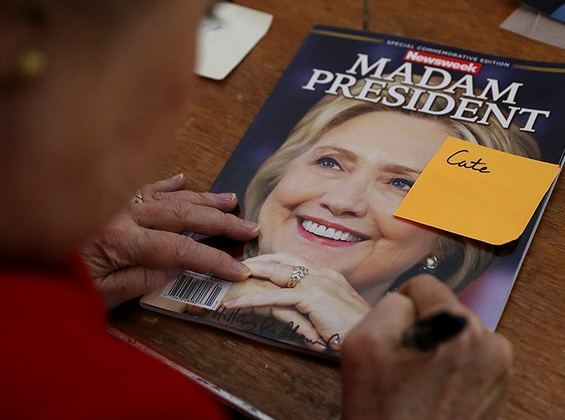 WikiLeaks could not resist a dig at the outgoing Obama administration: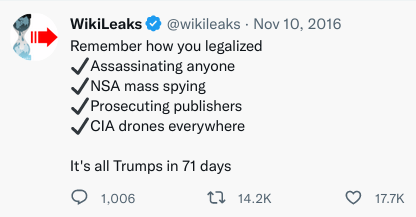 When later asked if WikiLeaks had changed the outcome of the election, Assange replied:
"Who knows, it's impossible to tell. But if it did, the accusation is that the true statements of Hillary Clinton and her campaign manager, John Podesta, and the DNC head Debbie Wasserman Schultz, their true statements is what changed the election."
He said a Clinton election win would have been "a consolidation of power in the existing ruling class of the United States" whereas Trump's victory could bring "change for the worse and change for the better".
Carry On WikiLeaks
With Assange still offline, WikiLeaks staff carried on working. Three days after the election they did a Reddit AMA responding to questions including rumours that Julian was dead.

A week later Sarah Harrisoon wrote a New York Times Op-ed Why The World Needs WikiLeaks, condemning the mounting attacks on Julian Assange and vowing that WikiLeaks would continue publishing:
There is a desparate need for our work. The world is connected by largely unaccountable networks of power that span industries and countries, political parties, corporations and institutions. WikiLeaks shines a light on these by revealing not just individual incidents, but information about entire structures of power…​
Harrison noted that WikiLeaks had "vetted, indexed and published over 3,000 documents per day" over the the last decade and their searchable archive now stored over 10 million documents,
Wikileaks will continue publishing, enforcing transparency where secrecy is the norm. While threats against our editor are mounting, Mr Assange is not alone and his ideas continue to inspire us and people all around the world.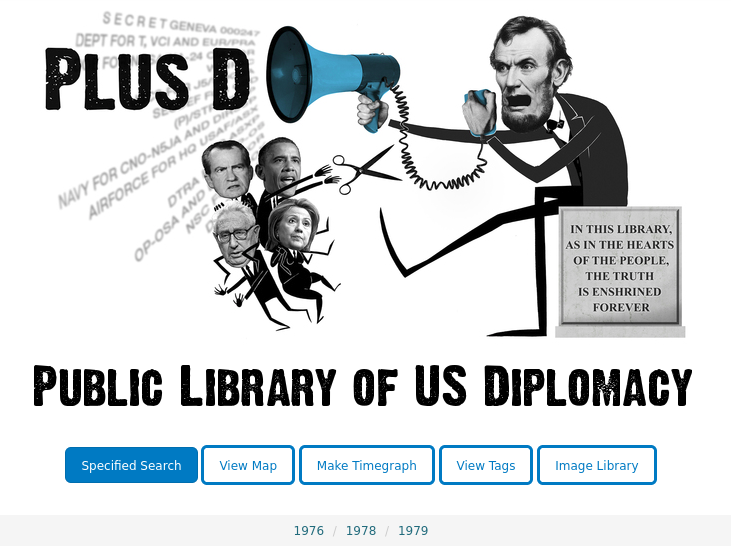 On 25 November WikiLeaks released the Yemen Files, showing evidence of the US arming, training and funding Yemeni forces. Three days later they released over half a million US diplomatic cables from the year 1979, which Assange called "year zero" of the modern era. The cables discussed the Iranian revolution, the siege of Mecca, the election of Thatcher, the assassination of British Shadow Secretary for Norther Ireland Airey Neave, the IRA's Warrenpoint bombing, the Three Mile Island nuclear incident, the SALT II treaty, coups in El Salvador & Grenada, the Ecuadorian election, and much more.
Celebrity Interactions
As WikiLeaks' global stature grew throughout 2016, Julian Assange was able to broker more engagements with influential celebrities, some more helpful than others.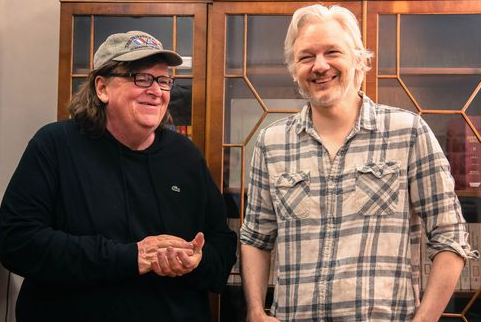 Michael Moore, director of the Oscar-winning documentary "Fahrenheit 911", held a meeting with Assange inside the Ecuadorian embassy in June, 2016 and then made a strong statement of support, promising further help. But Moore's support soon swung to criticism as election polls swung in Donald Trump's favour. He said Assange and WikiLeaks were now "essentially anarchists [who] want to blow up the system" and Donald Trump was their "human Molotov cocktail".
Baywatch star Pamela Anderson - introduced by Vivienne Westwood - became a long-time supporter of Julian Assange and a regular embassy visitor, often bringing food and gifts. This soon sparked rumours of a romance which neither of them were in a rush to deny (the rumours helped divert attention from Assange's increasingly pregnant lawyer Stella Moris). As an example of how insane media coverage had become by October 2016, when Anderson took Assange a vegan sandwich it prompted rumours that she had poisoned him on behalf of the Clinton campaign, supposedly forcing WikiLeaks to issue a "dead man's switch" tweet just hours later.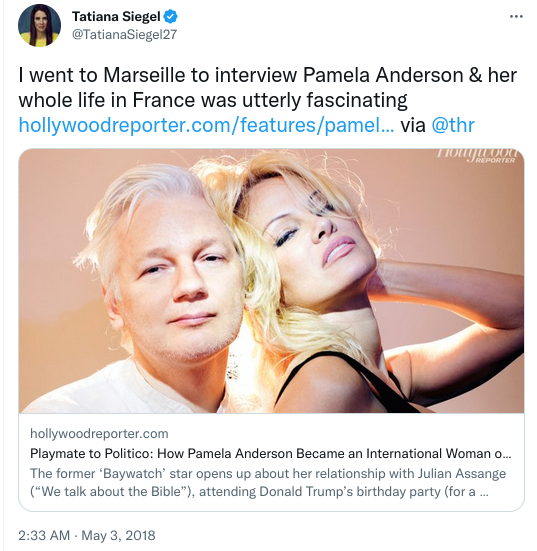 When former Klu Klux Klan boss David Duke expressed support for Assange, the WikiLeaks founder was labeled a bigot and a racist by association. US right wing TV host Sean Hannity repeatedly invited Assange onto his show to discuss the latest email releases and even offered to let Assange host a show. Assange continued to insist that he was neither pro-Republican nor pro-Democrat, but only wanted to help voters make more informed decisions.
Hollywood actor John Cusack, Yoko Ono and her son Sean Lennon also visited. Perhaps these growing celebrity interactions helped induce Donald Trump's oldest son, Donald Trump Junior, to respond to a private Twitter message from WikiLeaks on September 20, 2016:
"A PAC run anti-Trump site putintrump.org is about to launch," WikiLeaks wrote. "The PAC is a recycled pro-Iraq war PAC. We have guessed the password. It is 'putintrump.' See 'About' for who is behind it. Any comments?"
12 hours later Trump Jnr. responded: "Off the record I don't know who that is, but I'll ask around."
WikiLeaks convinced Trump Jnr to share information with his followers, and later urged the Trump campaign to reject the results of the 2016 election if Hillary Clinton won. Following the election, WikiLeaks also urged Trump Jnr to suggest President Trump advise Australia to appoint Julian Assange as ambassador to the USA.
Another celebrity riding on the WikiLeaks bandwagon was Roger Stone, a longtime Republican operative and friend of Donald Trump, who claimed in August 2016 that he had been in communication with Assange over an "October surprise" to foil Clinton. Stone repeatedly claimed to have personally met Julian Assange, then repeatedly denied ever meeting him. WikiLeaks publicly dismissed Stone's lies and privately cautioned him to stop making false claims.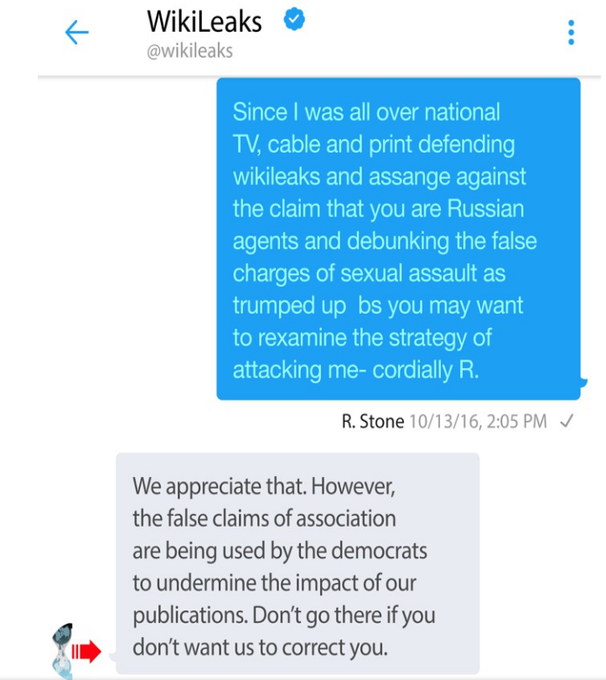 Stone continued to insist he had a "back channel" source who was a "mutual friend" of Assange. He later identified this source as Randy Credico, a New York radio host who supported Assange but never had any insider knowledge of upcoming WikiLeaks releases.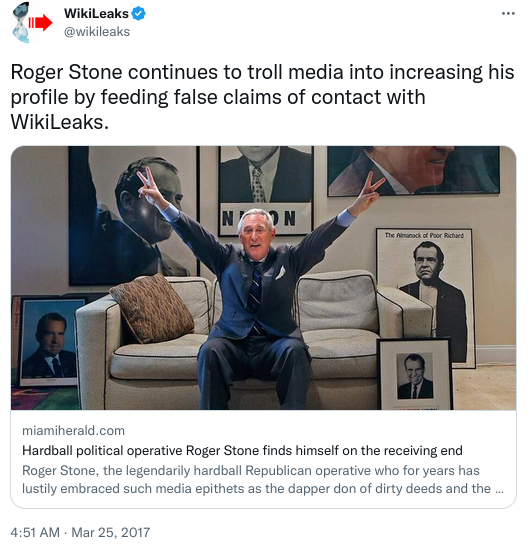 When Credico was later subpoenaed to testify against Stone, Stone threatened to destroy him and take away his support dog. Roger Stone was eventually sentenced to 40 months in prison for lying, witness tampering and obstruction of justice. Donald Trump gave Roger Stone a pardon in December 2020, just weeks before he departed the White House.
THE NEXT CHAPTER IS ON THE WAY SOON!
The author of this book can be found on Twitter: @Jaraparilla
Copyright Gary Lord 2021, 2022, 2023